The new Range Rover Evoque reviewed by WhatCar?
There aren't many cars on sale today that you'd truly call a style icon. The Mini is definitely one, the Fiat 500 also deserves the title and the Porsche 911 probably does, too. But we'd be tempted add another name to that list: the Range Rover Evoque.
The original Evoque, launched back in 2011, changed Land Rover forever. Before then, its SUVs were handsome enough but in quite a functional, boxy sort of way – then along came the Evoque and suddenly it was as much about fashion and glamour as it was old money and off-roading.
It's hardly surprising, then, that Land Rover chose to be pretty sympathetic to the original design with this second-generation model – it would have been daft not to, given the first Evoque's success in the sales charts. That said, it isn't too hard to see the influence of the pricier Range Rover Velar, particularly in the squintier lights at the front and back and the flush door handles that pop out for you to pull.
The Range Rover Evoque's key rivals include the Audi Q3, the BMW X1 and our 2018 Car of the Year, the Volvo XC40. None of these purports to be as capable as the Evoque off the beaten track, but how do they square up when it comes to on-road driving dynamics, interior quality, safety, practicality and running costs? Read on over the next few pages and we'll tell you all you need to know.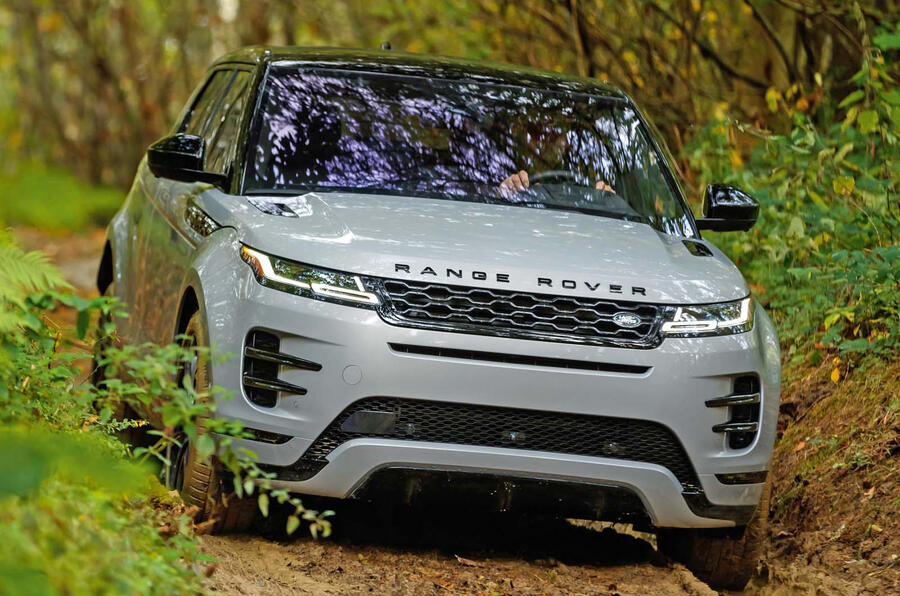 Driving
What it's like to drive, and how quiet it is
So far, we've only tried the range-topping 2.0-litre diesel (badged D240). With 237bhp, you'd expect its performance to be pretty rapid, and it's certainly more than adequate for a family SUV.
However, acceleration never feels quite as urgent as you might imagine, which makes us wonder if the less powerful diesels, particularly the entry-level D150, might feel a little lethargic.
All versions of the Evoque (apart from the D150 diesel) come with a nine-speed automatic gearbox as standard. This can sometimes be a little dim-witted during low-speed manoeuvres and when pulling out of junctions and onto roundabouts, but gearshifts are smooth and snappy when you're on the open road.
Our test car had enormous 21in alloys that come as part of an optional pack that also brings adaptive suspension. Specced this way, the ride isn't perfect: things become a little bit choppy along uneven roads and there's a noticeable jolt over sharp ridges and potholes. But the Evoque still proves comfy enough and we'd be very surprised if sticking with smaller wheels didn't make it even more so.
Until we've tried a version shod with more sensibly sized wheels, we won't know if the Evoque is a match for the best family SUVs in the comfort stakes, though.
It's no Porsche Macan through the corners, but compared with many of its direct rivals, including the Volvo XC40. the Evoque handles pretty tidily. You don't get too much body sway and there's a fair amount of grip.
The steering is also accurate, appropriately geared – not too slow but not too quick – and gives you a reasonable sense of connection with the front wheels, no matter what speed you're doing.
You'd expect a Range Rover to be jolly good off road, too, and sure enough, the Evoque can tackle terrain that would leave an XC40 flummoxed. Its Terrain Response 2 system can automatically tailor the car's four-wheel drive setup to suit the surface you're driving on; it also has more ground clearance than most rivals and can wade through an impressive 600mm of water (150mm more than an XC40).
The D240 engine we tried is fairly smooth for a four-cylinder diesel, but does get a bit noisy when you work it hard. The Evoque is a relatively peaceful cruiser in other respects, though, generating a lot less road noise than the XC40 or BMW X1 on the motorway.
There isn't much wind noise, either, although you can hear the suspension working away along pockmarked roads.
Interior layout
The interior layout, fit and finish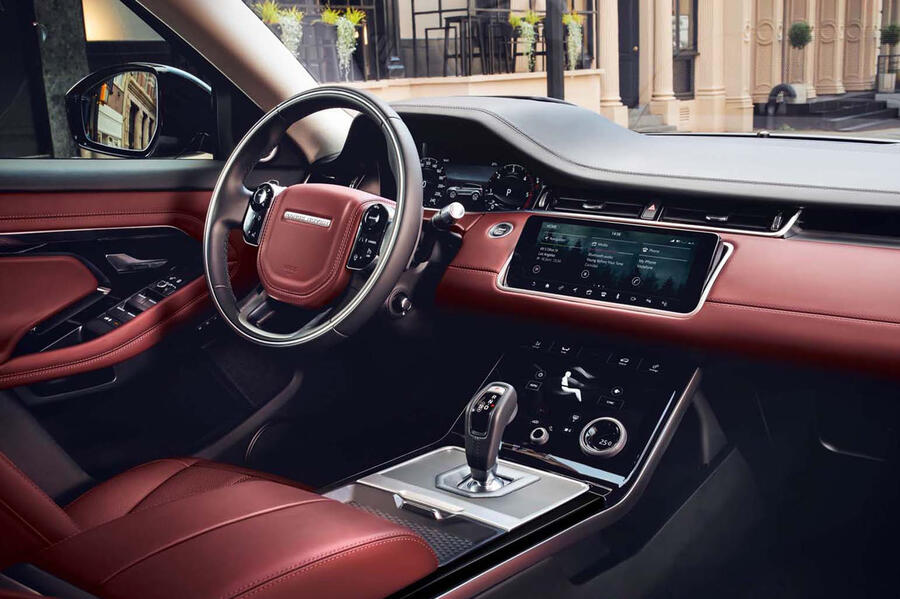 Land Rover is one of the best in the business when it comes to driving positions, and the Evoque is yet another example of how to do things right. You sit farther from the road than you do in many rivals, including the Audi Q3, and the front seats are super comfy with loads of adjustment.
Go for SE trim or above and you get a secondary 10in touchscreen that sits directly below the main infotainment screen. This is used to control the air-con (along with a couple of physical dials to tweak the temperature and airflow), the heated seats and the various different driving modes. There's no doubt this arrangement keeps the rest of the dashboard looking wonderfully clean, but the fact you have to look down to operate it is inevitably quite distracting when you're driving.
Despite its extrovert styling, the Evoque isn't too tricky to see out of. Its lofty driving position gives you an elevated view of the road ahead and the front pillars don't block too much of your diagonal view at junctions and roundabouts.
Over-the-shoulder visibility is less impressive (blame the rising window line and small rear screen), but all Evoques come with front and rear parking sensors and a reversing camera as standard. Pay a bit extra and you can have a surround view camera that displays a bird's eye view of the car on the central touchscreen.
The infotainment system is pretty much exactly the same as you'll find in the larger Range Rover Velar. Its 10in touchscreen is sharp and can be adjusted for angle so it points towards your face; you get plenty of gadgets, too, including Apple Carplay and Android Autosmartphone integration on all but the entry-level trim.
Unfortunately, the screen can sometimes be bit sluggish to respond to prods and its operating system isn't as intuitive as a BMW X1's, but it's still generally better than the system in the XC40.When it comes to outright solidity, the Evoque's interior isn't quite a match for the Volvo XC40. It still feels well bolted together, though, and the materials used feel suitably plush – even if you opt for the Eucalyptus non-leather interior option (a no-cost option on some of the posher trim levels).
Go for this and the steering wheel covering is made from recycled plastic (although it feels like suede), and the seats are trimmed with a material that looks and feels a bit like denim. If you're worried that all sounds a bit low-rent in what's supposed to be a premium SUV, we can assure you it really doesn't detract from the overall upmarket look and feel of the interior.
There is, of course, a genuine leather interior option if you want it, too.
Space & practicality
How it copes with people and clutter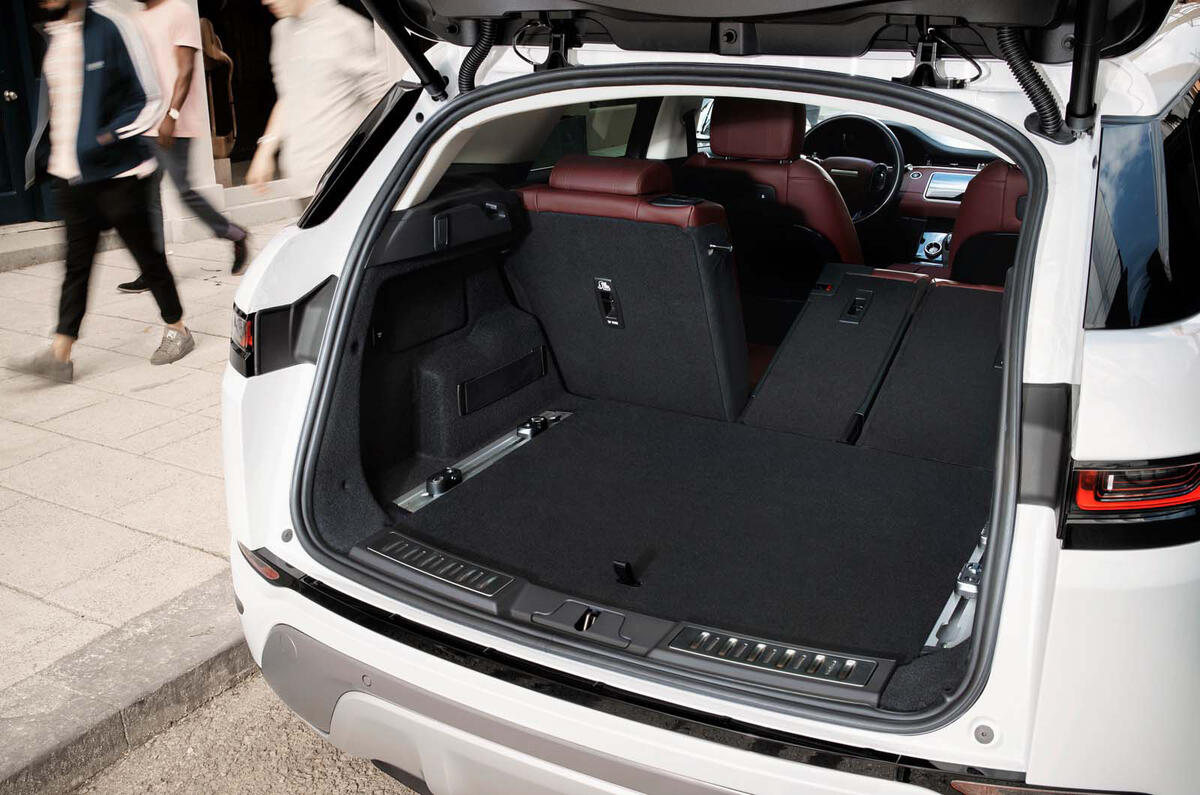 Being quite a substantial car, you wouldn't expect to struggle to fit in the front of the Evoque and, sure enough, you won't – at least not unless you're exceptionally tall.
Both front seats slide a long way back on their runners, and you'd have to be close to seven feet tall to feel your hair brushing the ceiling, even if you opt for a panoramic sunroof – a feature that can often severely restrict headroom.
As for storage space, there's a reasonable amount under the central armrest, plus a couple of cupholders between the front seats.
Although the Evoque is still tiny by Range Rover standards, this latest version is actually bigger in the back than its predecessor, thanks to its longer wheelbase (the distance between the front and rear axles).
In fact, the Evoque is one of the roomiest family SUVs when it comes to both rear head and leg room. Its relatively broad interior should also make carrying three adults in the back less of a squeeze than it is in many rivals.
The rear seats don't do anything clever, such as slide or recline – handy features that are available on both the Audi Q3 and BMW X1.
However, the rear seatbacks split in a 40:20:40 arrangement, which is better than the 60:40 split you get in the XC40 and enables great flexibility when you need to carry both rear passengers and a lengthy load.
You can ignore the official capacity in litres – Land Rover measures boot space in a different way to most other manufacturers – but there's certainly enough room for a few suitcases or a set of golf clubs. We'd estimate that the Evoque's boot is roughly the same size as a Volvo XC40's, although we will of course be carrying out our thorough practicality tests in due course.
The 40:20:40 split rear seats fold down to leave an almost completely flat extended loadbay for use when you need to cart around more clobber.
Cost & verdict
Everyday costs, plus how reliable and safe it is
Perhaps the biggest reason to buy an Evoque (other than the way it looks, of course) is how well it's likely to hold onto its value. Independent depreciation experts expect it to be worth more than all of its rivals, including the Volvo XC40 and Audi Q3, when you come to sell in three years' time.
That prospect more than makes up for the fact that list prices are a little higher than for key rivals. However, it's worth noting that, officially at least, many rivals are more economical than the Evoque and emit less CO2, making them cheaper to run for company car users.
Every Evoque is well equipped, with climate control, rain-sensing wipers, automatic LED headlights, keyless start and heated front seats as standard. The alloy wheels of entry-level models are just 17in in diameter, though, and don't really fill the wheel arches properly.
Upgrade to S trim and you get larger (18in) alloys, along with leather seats and power-folding door mirrors. This trim is well worth considering, although many buyers will still think the wheels look a bit tiddly.
You can pay extra for bigger alloy wheels on their own, but you may as well upgrade to SE trim, which also adds a powered tailgate, automatic high-beam assist for the headlights and a bird's eye view camera (see visibility section). You'll probably still want to add front foglights and keyless entry, but doing so is cheaper than going for range-topping HSE trim.
This isn't usually an area of strength for Land Rover. Indeed, the brand finished a very disappointing 30th (out of 31 manufacturers) in the 2018 What Car? Reliability Survey, where the previous-generation Evoque proved the most unreliable of all the family SUVs included.
Fingers crossed, then, that this latest model will prove considerably more dependable than its predecessor, and buyers won't have to call on its three-year, unlimited mileage warranty too often.
The Evoque hadn't been independently appraised for safety at the time of writing, but Land Rover's recent models have scored impressively well for crash protection.
There's plenty on hand to prevent you having a crash in the first place, too, including city emergency braking, lane-keeping assistance and a system that alerts the driver if he or she if is becoming tired. Blindspot monitoring is optional on most trims, but standard on the range-topping HSE.
Two Isofix mounts, one on each outer rear seat, are included as standard on all versions. It's a shame there's no option to add a third on the front passenger seat, though.
Verdict
It might well be the Evoque's looks that piqued your interest, but it's a fine car on more objective levels, too. It's good to drive, really posh inside and is even fairly practical by class standards. It's one of the more expensive cars in the class, but slow depreciation means you should get a lot of that investment back when you sell – and monthly PCP finance costs are also surprisingly competitive.
All credit goes to WhatCar? for the review. Original content can be found at https://www.whatcar.com